Test SD card speed
Install GIMP
Open terminal


sudo apt install agnostics

Open terminal


sudo apt-get install gimp -y
Partition Manager
FTP Client
Open terminal


sudo apt-get install gparted -y

Open terminal


sudo apt-get install filezilla -y
Firefox ESR
Neo Fetch
Open terminal


sudo apt install firefox-esr -y

Add / Remove Software


neofetch
Lxtask Utilities
Libre Office
Open terminal


lxtask

sudo apt install libreoffice

-y
Pi-Apps
Htop Utilities
Open terminal
git clone https://github.com/Botspot/pi-apps
/home/pi/pi-apps/install


Add / Remove Software


htop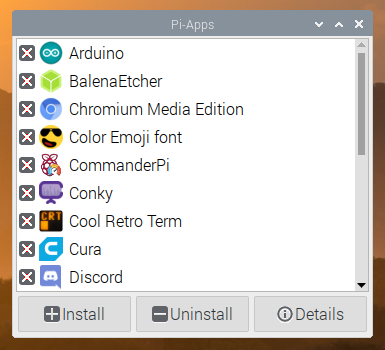 How to Control a Raspberry Pi Remotely From Anywhere In the World
sudo apt-get update
sudo apt-get install realvnc-vnc-viewer
sudo apt-get install realvnc-vnc-server
sudo apt-get install realvnc-vnc-server realvnc-vnc-viewer
sudo raspi-config
Once that's complete, type in sudo raspi-config and press Enter. Scroll down to VNC and set it to Enabled.
Share your PC or Mac mouse and keyboard with your RASPBERRY PI using Barrier
For Windows PC, you need 64-bit version.
You can visit the wiki page here.

Download BarrierSetup-2.3.2.exe 8.37MB below on your windows pc:
github.com/debauchee/barrier/releases

Open your terminal on your raspberry pi:
sudo apt install barrier -y
Using WhatsApp Web on your raspberry pi 4
Step 1: Start your web browser
Step 2: Goto "More tools", then choose "Extensions"
Step 3: Goto "Extensions" on the upper left, then choose "Open Chrome Web Store"
Step 4: Search for "user-agent"
Step 5: Add to Chrome
Step 6: Add extension
Step 7: Right click on the icon, then choose "Options"
Step 8: Add the following below:
Name: Chrome 2020
String: Mozilla/5.0 (X11; CrOS armv7l 10895.56.0) AppleWebKit/537.36 (KHTML, like Gecko) Chrome/69.0.3497.102 Safari/537.36
Group: Chrome
Append: Replace
Flag: CH2
Step 9: Click on the "Add" button

Samba Server
sudo apt-get install samba samba-common-bin -y
mkdir /home/pi/shared
sudo nano /etc/samba/smb.conf
[pishare]
path = /home/pi/shared
writeable=Yes
create mask=0777
directory mask=0777
public=Yes
sudo smbpasswd -a pi
sudo systemctl restart smbd
hostname -I
Connecting to your Samba Server on Windows
Open "File Explorer"
Map network drive
Drive: Z:
Folder: \\raspberrypi\
Connect using difference credentials
Key in your user name and password
Open Broadcaster Software (OBS)
sudo apt install ffmpeg
sudo apt install obs-studio
Burn SD cards with Etcher
Download the AppImage file from the Etcher website.
https://www.balena.io/etcher/
Open a terminal window and enter:
cd Downloads
chmod a+x Etcher-linux-x64.AppImage
./Etcher-linux-x64.AppImage
Video Editing Software
We designed OpenShot Video Editor to be an easy to use, quick to learn, and surprisingly powerful video editor. Take a quick look at some of our most popular features and capabilities.
Pi-hole – Network-wide Ad Blocking
A black hole for Internet advertisements.
For more information, please visit the https://pi-hole.net/ official web site here.